Beginning Orthodontics Comprehensive Course (2019-2021 Program)
August 13, 2021
–
August 14, 2021
UTC+0
Over 30 years of experience teaching comprehensive ortho to GPs.
Designed to be the closest CE Course to an orthodontic residency for the General Practitioner.
Students are encouraged to bring patient records to the Friday sessions for case mentoring and troubleshooting help.
Courses meet every 6-8 weeks on Friday & Saturday

Friday lecture session
Saturday clinical session where participants treat patients, not typodonts

All patients, materials, and supplies for the clinical sessions are provided by the Academy.
Retake course lectures for FREE for up to 2 years after graduation. Earn up to 72 additional CE hours at no charge! (with current AGpO membership).
Same instructor for all 12 sessions.
Library of on-demand ortho lectures available at no charge.
Limited number of participants – courses range from 8-20 students.
Confidently incorporate orthodontics into your general practice!
Session Dates
Session 9: June 11-12, 2021
Session 10: August 13-14, 2021
Session 11: October 8-9, 2021
Session 12: December 10-11, 2021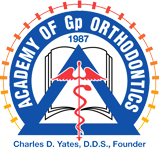 Related Events